The Story of Insulin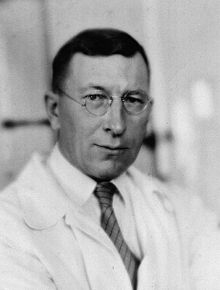 The story of insulin is one of collaboration—its discovery, development and continued innovation made possible by a common goal of changing diabetes. Driven by Canadian ingenuity and carried across continents, insulin is widely recognized as one of medicine's greatest achievments.1
Diabetes was once a fatal disease.2 Today, individuals with diabetes are able to live full, active lives, and insulin therapy remains a life-saving treatment for individuals with type 1.3,4 Insulin was hugely important at the time of its discovery and remains so today. At Novo Nordisk, the creation of insulin is a story that makes us proud—rooted in Canadian innovation, and deeply tied to our own origin story.
World Diabetes Day (WDD) is recognized on November 14, celebrating the birthday of Dr. Frederick Banting, the co-discoverer of insulin.1,5 At our head office in Mississauga, we're marking WDD 2018 with an all-company meeting, book signing with patients featured in 'In Your Own Words', and a walk outside the office to encourage taking steps to prevent type 2 diabetes. We're supporting with some articles in The Globe and Mail profiling true stories of Canadians living with diabetes—and of course, we're taking a look back at the story of insulin.
From Idea to Innovation
In 1920, Dr. Frederick Banting developed an idea for a diabetes treatment.2,1 Moving from London, Ontario to Toronto to pursue the idea, Banting gained support from supervisor Prof. J.J.R Macleod, medical student Charles Best and Dr. James Collip at the University of Toronto.2,1
Research began in 1921.2 By 1922, Banting's team had treated the first patient with insulin and announced their discovery.2 Learning of their astonishing development, August Krogh from Copenhagen wrote to MacLeod requesting a visit.6 Following the meeting, with MacLeod's permission, and support from Hans Christian Hagedorn, Krogh began treating Scandinavian patients with insulin in 1923.6
Krogh (a Nobel Laureate for Physiology himself) submitted Nobel Prize nominations for Banting and MacLeod, opining the groundbreaking outcome was reached through joint effort.7 When the prize was awarded to Banting and MacLeod in 1923, Banting shared his prize with Best, and MacLeod shared his with Collip.1
In Denmark, innovation continued at Krogh and Hagedorn's Nordisk Insulinlaboratorium. In 1936, Hagedorn discovered protamine, which prolongs the effects of insulin.6 In 1971, Hagedorn was honored posthumously by the University of Toronto with an honorary doctorate, in a ceremony marking insulin's 50-year anniversary. In 1925, brothers Harald and Thorvald Pedersen established Novo Terapeutisk Laboratorium, where they developed the Novo Syringe.6 In 1989, Novo Terapeutisk Laboratorium and Nordisk Insulinlaboratorium merged to create Novo Nordisk.8
Banting's Legacy 
Banting's idea—and the work of those who collaborated with him—has impacted many lives. For our part, Novo Nordisk strives to carry on the tradition of collaboration inherent in insulin's story. We take an active role in the development of diabetes treatments through clinical trials, and are dedicated to improving patients' experiences through partnerships with patient groups.
As we look towards the 100-year anniversary of insulin in 2022, we're proud of our role in the story and success of insulin—and we look forward to future innovations in diabetes treatment.